San Diego University for Integrative Studies is proud of its affiliated core and adjunct faculty. Embodying the qualities of scholar-practitioners, they bring to their classrooms and to our curriculum their academic wisdom and training, as well as their worldly experience and commitment. Believing in personal exchange and exposure to a variety of thinkers and doers, San Diego University for Integrative Studies seeks out specialists to teach in each of its course areas. Input from such qualified faculty is sought at the curriculum development stage, as well. Faculty members are interested humans who believe that, by passing on their knowledge and expertise they can make a positive change in our collective future.
Although San Diego University for Integrative Studies is a small university, it is not defined by a few full-time academics. Leaders, innovators, and traditional scholars all teach in their areas of expertise and interest. Over 90% of the faculty who have offered regular classes, from the Master's level through the Ph.D. programs, hold terminal degrees in their areas of expertise.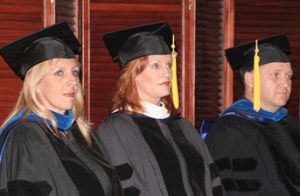 A look at the faculty list will provide the reader with a who is who in the teaching areas. Our faculty is deep and embraces a breadth that includes a multicultural and multinational perspective. They are professionals who are able to pass on practical wisdom as well, because they are active professionals who provide service to others on an ongoing basis.
Michael Allen, MA
Master of Science, Accountancy, California State University, Chico
Bachelor of Arts, Journalism, California State University, Hayward
Tax Certificate, UCLA Continuing Education
Teaching specialty: Accounting
Neenah Amaral, PhD, MFT
Ph.D. Clinical Psychology, La Jolla University,
Master of Arts. Counseling Psychology, La Jolla University
Bachelor of Arts, Psychology, University of California San Diego
Teaching specialty: Counseling, Family Therapy, Psychology
Jason Bernaldo, MA
Master's in Organizational Leadership, Chapman University
Bachelor's in Criminal Justice Administration, San Diego State University
Associate's in Criminal Justice Administration, Southwestern College
Teaching Specialty: Executive Leadership Coaching, Family Leadership Coaching, Communication
Yolonda Boston-Creigh, MEd
Master of Education, Adult Education, University of Phoenix
Bachelor of Liberal Arts, Communications, Purdue University
Teaching Specialty: Hospitality Management, Human Resources
Desiree Bradanini, Lead Faculty
Bachelor of Fine Arts, Fashion Design, Parsons School of Design, New York
Teaching specialty: Fashion Design
Spencer Burrows, J.D.
Juris Doctor, University of California, Hastings College of Law
Bachelor of Arts, Psychology, Minor Political Science, University of California, Los Angeles
Teaching Specialty: Business Administration, Business Law
Domenico M. Camplisson, MTS
Master of Theological Studies, University of Dallas
Bachelor of Arts (Honors) Modern History, Queens University Belfast
Teaching Specialty: Humanities, Leadership, Marketing
Timothy Carr, BA
Bachelor of Science, Business Administration, Boston University
Teaching Specialty: Business, Marketing
Janet Cassidy, MS
Master of Science in Higher Education Administration, National University
Master of Arts in Coaching and Athletic Administration, Concordia University
Bachelor of Fine Arts with an emphasis in Graphic Design, San Diego State University
Associate of Arts Degree in Fine Arts, Riverside Community College
Teaching Specialty: Sport Coaching, Sport Management
Michele Christopher, MBA
Master of Business Administration, University of Phoenix, Phoenix, AZ
Bachelor of Science in Communication, Arizona State University, Tempe, AZ
Design for Six Sigma Greenbelt Certified
Teaching specialty: Business, Communication, Marketing
Stephanie Clausen, PhD
PhD, Organization Development, Marshall Goldsmith School of Management, Alliant University
Master of Arts, Organization Development, Marshall Goldsmith School of Management, Alliant University
Bachelor of Arts, Psychology, University of California, Santa Cruz
Teaching Specialty: Business, Hospitality Management, Leadership
Joseph Davis, PhD
Doctor of Philosophy, Clinical Psychology, The University for Humanistic Studies
Master of Science, Radford University
Bachelor of Science, Radford University
Teaching Specialty: Cognitive Therapy, Psychology, Research
William Dieck, MA, MBA
Master of Arts, Organizational Management, University of Phoenix
Master of Business Administration, University of Phoenix
Bachelor of Arts, Psychology, University of San Diego
Teaching specialty: Business, Executive Leadership Coaching, Family Leadership Coaching
Todd Endres, MBA
Master of Business Administration, Information Technology, University of California, Irvine
Bachelor of Science, Finance, San Diego State University n Diego State University
Certificate, International Finance, School for International Studies, Tokyo, Japan
Teaching Specialty: Business, Economics, Information Technology
Noel Gonzaga, MS
Master of Science, Information Systems Management, Keller Graduate School of Management
Bachelor of Science, Cognitive Science, University of California, Los Angeles
Teaching Specialty: Information Technology, Computer Science
Edward Goold, DBA, Lead Faculty
Doctor of Business Administration, International Business Administration, Alliant International University
Master of Business Administration, California State University Long Beach
Bachelor of Science, Hotel Management, Florida International University
Associate of Applied Science, Hotel Technology, Sullivan County Community College
Teaching specialty: Business, Hospitality Management
Linda Greischel, PhD, LCSW
Doctor of Philosophy, Comparative Religion & Philosophy, California Institute for Human Science
Master of Clinical Social Work, University of Washington
Bachelor of Arts, Religious Studies, University of Colorado Boulder
Teaching Specialty: Core Psychology (Developmental, Counseling Theories & Methods), Expressive Arts, and Transpersonal Psychology (Cross-Cultural Spirituality & Jungian approach)
Michael Hawthorne, MBA
Master of Business Administration, Franklin University
Bachelor of Arts, Business Administration, Otterbein University
Associate of Applied Business, Central Ohio Technical College
Teaching Specialty: Business, Finance, Leadership, Marketing
Amber Herrmann, MS, SPHR
Master of Science in Business Administration, Human Resources Management, San Diego State University
Bachelor of Science, Business Administration Service Sector, California State University San Marcos
Senior Professional in Human Resources Certification (SPHR)
Teaching specialty: Business Hospitality Management
Fred Kaiser, MS
Master of Science, Statistics/Biostatistics, San Diego State University
Bachelor of Science, Business Administration, Productions and Operations Research, San Diego State University
Associates in Business, Pasadena City College
Teaching Specialty: Math, Statistics
Dennis Kane, MBA
Master of Business Administration, Ohio State University, Columbus
Bachelor of Business Administration in Accounting, Cum Laude, Ohio State University, Columbus
Accountancy Board of Ohio, CPA 29091
Teaching Specialty: Business, Accounting, Finance
Cliff Keenan, MSS, MAS, Lead Faculty
Master of Strategic Studies, U.S. Army War College
Master of Aeronautical Science, Aeronautics, Embry-Riddle Aeronautical University
Bachelor of Arts, Political Science, Wright State University
Teaching specialty: Business, Information Technology
Doris Klein, Ed.D.
Doctor of Education, Organizational Leadership, Grand Canyon University
Master of Arts in Business Management, Health Care, Ashford University
Bachelor of Arts in Liberal Studies, National University
Certified Medical Assistant, Apollo College
Teaching specialty: Business, Executive Leadership Coaching, Family Leadership Coaching
Carol Landry, EdD
Doctor of Education, Educational Leadership, Administration & Policy, Pepperdine University
Master of Arts, Organizational Management, University of Phoenix
Bachelor of Arts, Psychology, University of San Diego
Teaching Specialty: Business
Betty Lewis, MSBA, MS ACC, CIA, CFE
Master of Science, Business Analytics, San Diego State University
Master of Science, Accounting
Certified Internal Auditor (CIA)
Certified Fraud Examiner (CFE).
Teaching Specialty: Accounting, Business Administration
Matthew Loschiavo
Bachelor of Science, Management, Georgia Tech
Teaching Specialty: Information Technology Systems, Web Design
Doris Lu-Anderson, PhD (Core Faculty)
Ph.D., Sport Administration/Physical Education., Florida State University
Master of Business Administration, San Diego State University
Master of Science, Health and Physical Education, Louisiana Tech University
Bachelor of Arts, International Business, Ming Chuan University, Taipei, Taiwan
Teaching Specialty: Business, Sport Psychology
Rand Lundmark, MA, CADC II
Master of Arts, Spiritual Psychology, University of Santa Monica
Bachelor of Science, Psychology, The Union Institute
Certified Alcohol & Drug Counselor, II
Teaching Specialty: Clinical Psychology, Behavioral Psychology
Yvette Lyons, PhD
Doctor of Philosophy, Psychology, California Institute of Integrative Studies
Master of Arts, Psychology, The University for Humanistic Studies
Bachelor of Arts, Psychology, Sierra University
Teaching Specialty: Expressive Arts Therapy, Psychology
Jenny Molstre, PsyD
Doctor of Psychology, San Diego University for Integrative Studies
Master of Arts, Marital & Family Therapy, Alliant International University
Teaching Specialty: Clinical Psychology
Joseph Naanos, MBA
Master of Business Administration, Technology Management, University of Phoenix
Bachelor of Arts, Multimedia Production, California State University, Northridge
Teaching Specialty: Information Technology, Web Design, Business Administration
Florence Norris, MS
Master of Science, Community Counseling Psychology, Springfield College
Bachelor of Science, Public Health, San Diego State University
Associate of Science, Sociology, San Diego City College
Teaching Specialty: Psychology (Abnormal, General, Social, Developmental), Leadership
Carlton O'Neal, J.D.
Juris Doctor, Southern Methodist University, School of Law
Master of Business Administration, Southern Methodist University, Cox School of Business
Bachelor of Science, Electrical Engineering, Rose-Hulman Institute of Technology
Teaching Specialty: Business, Business Law, Marketing
Rene Ray, M.Ed.
Master of Arts in Education, Alliant International University
Bachelor of Arts, Organizational Leadership, Chapman University
Teaching specialty: Business, Communication
Robert Rodgers, MBA
Master of Business Administration, Technology Management, National University
Bachelor of Science, Computer Engineering, Clemson University
Teaching Specialty: Business, Computers
Steve Ryan, MA
Master of Arts, English, City College of New York
Bachelor of Arts, English, College of Staten Island, City University of New York
Teaching specialty: Business, Communication
Stella Saling, PhD
Doctor of Philosophy, Professional Psychology, Alliant International University
Master of Arts, Counseling, Alliant International University
Bachelor of Arts, Biology, University of California Riverside
Teaching Specialty: Expressive Arts Therapy, Psychology
Douglas Saylor, PhD
PhD, French, English, Spanish, Italian, Louisiana State University
Master of Arts, Comparative Literature, University of New Mexico
Bachelor of Arts, English, University of New Mexico
Teaching Specialty: Academic English skills, writing, literature
Steven Schaefer, MBA
Master of Business Administration, International Management, Thunderbird, Goal School of Management
Bachelor of Arts, Government, Southern Illinois University
Teaching specialty: Business
Kathleen Scott, M.Ed, CPA
Bachelor of Science, Accounting, Southeast Missouri State University
Teaching Specialty: Accounting
Robert Spellman, MBA
Master of Business Administration, Technology Management, University of Pheonix
Bachelor of Science, Computer Science, Norfolk State University
Teaching Specialty: Accounting, Business, Information Technology
George Stalmah, CPA
Bachelor of Business Administration, Accounting, Cleveland State University
CPA – Certified by the Accountancy Board of Ohio
Community College Instructor Credential, Sacramento, California
CBEST – Substitute Teacher Credential, San Diego, California
Certified Personal Trainer, American Council on Exercise (ACE)
Life Agent – Long Term Care and Medicare Specialist
Teaching Specialty: Accounting, Business, Information Technology
William Stillwell, PhD
Doctor of Philosophy, Anthropology, University of Pittsburgh
Bachelor of Arts, Anthropology, Lawrence University
Teaching Specialty: Clinical Counseling, Humanistic Studies, Psychology
Cristina Versari, PhD
PhD specialization in Sport Psychology
United States International University, San Diego, CA
Master of Arts in Sport Psychology
United States International University, San Diego, CA
Bachelor of Science in Psychology
Universidade Gama Filho, Brazil
Bachelor of Science in Physical Education
Universidade Gama Filho, Brazil
Teaching Specialty: Sport Psychology, Business Planning
Gary Vienna, MS, Lead Faculty 
Master of Science, Information Technology, Grantham University
Bachelor of Science, Computer Science, Grantham University
Associate of Science, Computer Science, Grantham University
Teaching Specialty: Business, Information Technology, Web Design
Jason Wiggins, PhD
PhD, Management, Leadership, & Organizational Change, Walden University
Master of Business Administration, Managerial Leadership, City University (Seattle, WA)
Bachelor of Arts, Management Information Systems, Washington State University
Teaching Specialty: Management, Organizational Behavior, Leadership