Success Has Never Been Closer to Home!
• Get the degree or certificate YOU want to pursue, no matter where you live!
• Customize your own schedule!
• Study with dedicated professionals like yourself!
• It's easy to use and very convenient…
• …and a lot of fun too!
Your Time is Important!
On line distance education is the largest growing segment of higher education today. With the increasingly tight demands on people's schedules, and the need for further education to advance in the workplace, the ability to take courses that fit into their lifestyle is attracting an unprecedented influx of students to colleges and universities across the country.. More than 6 million students in the US took one or more online courses in 2017 (Online Learning Consortium, May 02, 2017). Are you ready to shape your future with the newest of today's methods?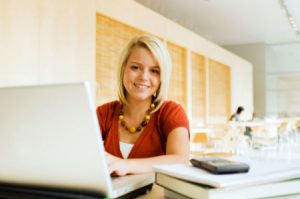 How Does Online Education Work?
Using virtually any computer with a current web browser and an internet connection, students and instructors use the Internet to log on to their course. Instructors interact with their class both individually and in groups. Since our online course platform (NEO) is easy to learn, students and instructors are able to concentrate on their work rather than worrying about the technology. And they do this whenever and wherever it works best for them. You can work at home or office at your convenience!
What is an online Class Like?
Typically, students log on to the NEO platform at the beginning of the week and download current assignments, reading, discussion posts, lectures, and graded assignments from the previous week. They complete the work at their convenience (but within the time schedule set for the class), then turn in their homework, ask questions, and participate in group discussions. It's like a regular class, you just sit farther apart! None of the classes are real time (except for online "office hours"), leaving you with the freedom to complete assignments, papers, etc. at your own pace.
What about a hybrid class?
As then name implies, hybrid classes are a combination of traditional in-residence classes with an online component, allowing you to have the "best of both worlds" in one course. Classes meet in person at the specified time and place for a majority of the course time, with the instructor and your other classmates. This is then supplemented by in-class work on our online learning platform (NEO), where students participate in additional semi-structured discussions of class topics, complete assignments, download reading materials and other learning resources, and perhaps take exams or quizzes. The online component becomes the repository for the key elements of the course, both learning resources and student-generated materials and projects.
NON-DEGREE CERTIFICATE PROGRAMS
-Certificate in Accounting
-Certificate in Advertising
-Certificate in Communication
-Certificate in Executive Leadership Coaching
-Certificate in Family Leadership Coaching
-Certificate in Fashion Design
-Certificate in Graphic Design
-Certificate in Hospitality Management
-Certificate in Information Technology Systems
-Certificate in International Business Administration
-Certificate in Marketing
-Certificate in Sport Coaching
-Certificate in Web Design
NON-DEGREE GRADUATE LEVEL CERTIFICATE PROGRAMS
-Certificate in Expressive Arts Therapy
-Certificate in Sport Psychology
-Certificate in Sport Management
How Does Teaching online Differ from Traditional Methods?
In an online distance education class, the instructor's role is that of facilitator, rather than lecturer. Through discussions, feedback, media resources and collaboration, the instructor guides the students, emphasizing critical thinking, profound reflection, and creative innovation in the learning process.
Look How Easy and Convenient It Is!
Before classes start, we will provide you with all the necessary information. Then simply use any computer with Internet access and: Open your email account, check for messages from SDUIS and open them, and log on to the Learning Management System. You are ready to begin your classes!
Questions?
We are here for you if you have any technical or academic questions about our online Learning program. Be it prior or during your classes we are just an E-mail or phone call away to assist and help you!
"Taking an online Class with SDUIS was a great experience. I met the nicest people online!"
"The instructors at SDUIS are experts in their fields, very approachable and concerned about my success."
"With online education I'm never late for class and I don't have to worry about traffic and a parking space either!"