San Diego University of Integrative Studies non-degree Certificate Program in Advertising provides students with a breadth of information and practical know-how in advertising communication, marketing strategy, copywriting, and design. It introduces contemporary advertising theories and practices by integrating traditional media – such as print – and with new media – such as Internet.
Participants will be exposed to the latest thinking in creating and writing ads and skillfully placing them for maximum success in influencing customers. Students will also learn how to manage the relationships between advertising agencies and their clients.
Identified by the US Department of Commerce as one of the fastest growing career fields, SDUIS non-degree Certificate in Advertising will help participants to understand media and markets, learn how corporations communicate effectively, and learn how to effectively manage advertising.It is possible to complete this program in as little as one year.
REQUIREMENTS: Participants in this non-degree certificate program must complete 40 units of Advertising coursework consisting of seven (7) classes.
Required(7) Advertising Certificate Courses:
ADV 601 Essentials of Advertising
ADV 603 Creative Advertising Concepts
ADV 605 Advertising Research & Strategy
ADV 610 Introduction to Advertising Design and Graphics
ADV 615 Advertising Profiles & Trends
ADV 618 Client Relations
ADV 620 Internet Advertising
ADV 623 Copywriting
ADV 625 Branding Theory
ADV 628 Advertising Design for Alternative Media
ADV 630 International Advertising
ADV 635 Advertising Sales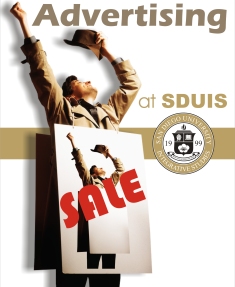 "Notice to Prospective Students
This institution approved by the Bureau for Private Post-secondary Education to offer degree programs. To continue to offer degree programs, this institution must meet the following requirements:
• Become institutionally accredited by an accrediting agency recognized by the United States Department of Education, with the scope of the accreditation covering at least one degree program.
• Achieve accreditation candidacy or pre-accreditation, as defined in regulations, by July 1, 2017, and full accreditation by July 1, 2020.
If this institution stops pursuing accreditation, it must:
• Stop all enrollment in its degree programs, and
• Provide a teach-out to finish the educational program or provide a refund.
An institution that fails to comply with accreditation requirements by the required dates shall have its approval to offer degree programs automatically suspended. "