BACHELOR OF ARTS IN BUSINESS ADMINISTRATION
The Bachelor of Arts in Business Administration degree program offers basic education and specialty curricula to provide the student with marketable business skills relevant to the contemporary multicultural, global workplace. The program's emphasis on Humanistic values strives to address shortcomings currently found in 'corporate culture'.
This program is designed to provide the student with a foundation and marketable skills in business administration, organization, management, and communication guided by international and multicultural applied perspectives. A logically sequenced curriculum presents a practical orientation for developing and implementing effective entrepreneurial systems and administrative strategies targeting the needs, issues, and trends of the 21st Century global marketplace. The student completes core courses in business administration in tandem with the fulfillment of lower and upper division general education courses from the University's approved undergraduate completion program in Humanistic Studies. Students enrolled in the Bachelor of Arts program in Business Administration may enrich the breadth of their undergraduate major by completing an additional Specialty curriculum in either Communications or Information Technology Systems, respectively. The Specialization curricula consists of seven (7) courses in either Communications or Information Systems Technology, and are designed as supplemental professional skills training logically integrated with and directly relatable to the organized sequence of studies comprising the major in Business Administration.
PREREQUISITES:
High school diploma or the equivalent (GED) are minimum requirements for admission. Students having earned an Associate of Arts degree, or the equivalent, from a state approved or regionally accredited institution may transfer a maximum of one hundred forty-five (145) quarter or ninety (90) semester units. The B.A. program in Business Administration requires all transfer students to complete a minimum of sixty (60) quarter units. The SAT's are not required for admission.
REQUIREMENTS:
The Bachelor of Arts in Business Administration degree program requires the completion of one hundred eighty (180) quarter units at the undergraduate level. The student completes one hundred five (105) quarter units in basic collegiate education and seventy-five (75) quarter units in Business Administration. This includes twenty-one (21) lower and upper division courses logically sequenced from the University's approved undergraduate curriculum and fifteen (15) specialty courses in Business Administration. Completion of this program also requires the student to fulfill a capstone Senior Research Project relative to applied topics in Business Administration and allied fields such as international marketing and finance, for example. Students majoring in Business Administration have the option of pursuing additional specialty instruction in either Communications or Information Technology Systems, and each specialty curriculum consists of thirty-five (35) quarter units, which is the equivalent of seven (7) courses beyond the minimum graduation requirement of one-hundred eighty (180) quarter units. As such, students fulfilling either Specialization course sequence complete a total of two-hundred fifteen (215) quarter units in completing all graduation requirements.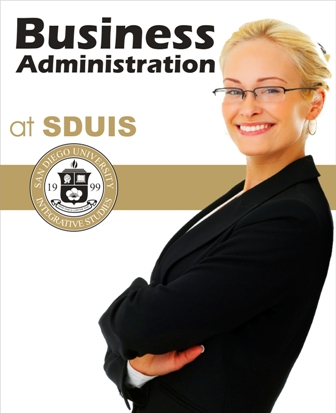 Course
BHS 100 The Human Body
BHS 103 The Written Word
BHS 105 Mathematics: A Most Powerful Tool
BHS 200 Connecting Up /Getting Online
BHS 302 How to Start YourOwn Business
BHS 402 The Study of Great Leaders Through Literature
BHS 405 The Humanistic Tradition
BHS 410 Introduction to Philosophy
BHS 451 Introduction to Political Thought
BHS 454 Individuals and Their Social Behavior
BHS 456 Contemporary International Writers
BHS 457 The Media as Mediator
BHS 464 Inventing the Modern Mind
BHS 465 History of the Ordinary People of the United States
BHS 471 The Third World
BHS 487 Career Counseling
BHS 488 Personal and Social Ethics
BHS 490 Leadership Development
BHS 401 Writing Skills and Research
BHS 455 Critical Thinking
BHS 495 Senior ProjectAdditional Required Business Courses (75 Units)
Course
BUS 401 Introduction to Business Principles & Organizations
BUS 402 Fundamentals of Business Administration
BUS 406 Business Math for Administrators
BUS 412 Business Information Technologies
BUS 416 Business Administrative Law
BUS 418 Essentials of AdvertisingBUS 420 Business Communications & the Global Economy
BUS 424 Organizational Statistics
BUS 432 Production and Service Management
BUS 434 Organizational Entrepreneurship
BUS 442 Foundations in Accounting
BUS 449 Foundations in Marketing
BUS 452 Foundations in Finance
BUS 458 Foundations in Economics
BUS 466 Legal and Ethical Issues in the Global Marketplace
BUS 475 Cross Cultural Strategic ManagementSpecialty Curriculum in Information Technology Systems
Course
ITS 404 Survey of InformationSystems
ITS 424 Operational SystemPrinciples
ITS 434 Design and Analysis ofInformation Systems
ITS 458 Web Development andManagement
ITS 466 Global Networks andTelecommunications
ITS 478 Frontend and Backend Database Management
ITS 492 Electronic Business PrinciplesSpecialty Curriculum in Communications
Course
BSCM 400 Oral and Written Communication Skills
BSCM 406 Effective Public Speaking
BSCM 408 Advanced Public Speaking for Business Managers
BSCM 412 Expository and Technical Writing Skills
BSCM 430 Persuasive Communication
BSCM 438 Cross Cultural Communication
"Notice to Prospective Students
This institution approved by the Bureau for Private Post-secondary Education to offer degree programs. To continue to offer degree programs, this institution must meet the following requirements:
• Become institutionally accredited by an accrediting agency recognized by the United States Department of Education, with the scope of the accreditation covering at least one degree program.
• Achieve accreditation candidacy or pre-accreditation, as defined in regulations, by July 1, 2017, and full accreditation by July 1, 2020.
If this institution stops pursuing accreditation, it must:
• Stop all enrollment in its degree programs, and
• Provide a teach-out to finish the educational program or provide a refund.
An institution that fails to comply with accreditation requirements by the required dates shall have its approval to offer degree programs automatically suspended. "