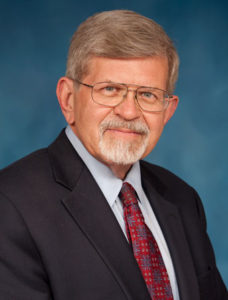 SDUIS President Dr Raymond J. Trybus Ph.D. is a former Provost and Vice President for Academic Affairs at National University, Executive Vice President of Alliant University Foundation, and for nine years was the Chancellor of the California School of Professional Psychology (CSPP), San Diego. Dr. Trybus has authored seventeen book chapters, authored or co-authored five books, and has published more than twenty-two scientific journal articles and technical reports. For the past three years, Dr. Trybus was the project Administrator for Project ESSEA (from Ethiopia, Somalia, Sudan, and Eritrea to America), and outreach-based mental health program for refugees and immigrants from those four East African countries who now live in San Diego.
He is also regarded as an internationally known research expert on the psychological issues of persons who are hard of hearing or deaf. Dr. Trybus has received over $4,000,000 in external funds for his research projects from state, federal, and private agencies and has presented more than fifty papers at scientific conferences. We are greatly honored to now have the scholarly expertise of Dr. Trybus, who is also a licensed psychologist in the state of California, District of Columbia, and Maryland. He has extensive clinical experience and has been practicing and consulting for over 30 years.
SDUIS is a small, private University with a humanistic and integrative philosophy. Our programs are applied in nature and we strive to equip our students with knowledge and tools they can use successfully in real life after graduation. Our awareness of the relationship between mind, body, and spirit forms the basis for a socially, culturally, and environmentally relevant educational process and experience which we call "Integrative Studies." Our faculty is committed to providing a socially relevant and highly practical experience for students so that they may begin their careers well prepared with the most current theoretical and practical knowledge available.
We believe that our students have the capacity to make a difference in our collective future as agents of change in their professions and communities. Join our students by embarking on one of life's great transitions, your dream career as a helping or business professional. We invite you to learn more about our programs by contacting our office at 619-297-1999 and enrolling in one of our upcoming classes
Dr Raymond J. Trybus Ph.D.
President