Academic Program – Aviation & Aerospace Commerce
CERTIFICATE IN AVIATION AND AEROSPACE COMMERCE
The San Diego University for Integrative Studies offers a non-degree certificate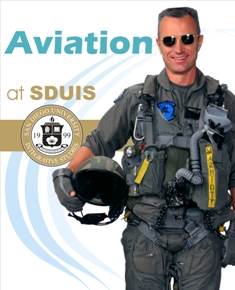 program in Aviation. This course curriculum provides a strong foundation for leadership positions within the aviation industry. The program emphasizes the study of human factors and stress management in aviation along with the technical fundamentals of flight in order to enhance student's critical thinking and problem solving skills along with safety awareness and technical proficiency.
Upon successful completion of the Aviation program students will be prepared for the Federal Aviation administration (FAA) written examinations. San Diego University for Integrative Studies is a ground school only and does not provide flight training. Additional requirements will need to be met prior to the issuance of any FAA flight license. For example, the FAA requires flight training, which may be satisfied at various locations in San Diego for which SDUIS provides referrals. In addition, for a private pilot's license a third class medical certificate is required. Proficiency in both written and spoken English is also a prerequisite. For more information please visit http://www.faa.gov/pilots/become/
PREREQUISITES:
By approval of the program director.
REQUIREMENTS:
Participants in this non-degree certificate program are required to successfully (35) complete thirty-five units of coursework in Aviation. Depending on the goals of the student, different coursework will be required prior to taking the FAA Private Pilot Airmen Knowledge Test or the FAA Instrument Rating Practical Test.