Academic Programs – Certificate in Advertising
CERTIFICATE IN ADVERTISING
San Diego University of Integrative Studies non-degree Certificate Program in Advertising provides students with a breadth of information and practical know-how in advertising communication, marketing strategy, copywriting, and design. It introduces contemporary advertising theories and practices by integrating traditional media – such as print – and with new media – such as Internet.
Participants will be exposed to the latest thinking in creating and writing ads and skillfully placing them for maximum success in influencing customers. Students will also learn how to manage the relationships between advertising agencies and their clients.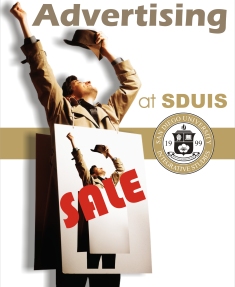 Identified by the US Department of Commerce as one of the fastest growing career fields, SDUIS non-degree Certificate in Advertising will help participants to understand media and markets, learn how corporations communicate effectively, and learn how to effectively manage advertising.
It is possible to complete this program in as little as one year.
REQUIREMENTS: Participants in this non-degree certificate program must complete 35 units of Advertising coursework consisting of seven (7) classes.
Required(7)  Advertising Certificate Courses:
ADV 601 Essentials of Advertising
ADV 603 Creative Advertising Concepts
ADV 605 Advertising Research & Strategy
ADV 610 Introduction to Advertising Design and Graphics
ADV 615 Advertising Profiles & Trends
ADV 618 Client Relations
ADV 620 Internet Advertising
ADV 623 Copywriting
ADV 625 Branding Theory
ADV 628 Advertising Design for Alternative Media
ADV 630 International Advertising
ADV 635 Advertising Sales
ADVERTISING (ADV) Course Descriptions
All courses numbered 499 and below are undergraduate classes. Courses numbered 500 to 599 are graduate (MA)
level classes. Courses numbered 600 to 699 are Masters level classes; and courses numbered 700 and above are
post-masters and doctoral level classes, but may occasionally be used in Masters programs.
ADV 601 ESSENTIALS OF ADVERTISING (5)
This course will emphasize the role of advertising in
a free economy, and its place in the media of mass
communications. A study of advertising appeals,
product and market research, selection of media,
testing of advertising effectiveness and organization
of the advertising profession.
ADV 603 CREATIVE ADVERTISING CONCEPTS (5)
In this fundamental course, students learn and
practice a set of concepting skills and techniques.
Readings, lectures and in-class exercises emphasize
creative thinking and specific methods for generating
advertising ideas. Students develop proficiency at
conceiving numerous, varied and original advertising
ideas.
ADV 605 ADVERTISING RESEARCH & STRATEGY (5)
The acquisition, evaluation and analysis of
information for advertising decisions. Emphasis will
be placed on understanding the scientific method,
developing explicit and measurable research
objectives, selecting appropriate methodologies and
analyzing data for developing and evaluating
advertising and promotional strategy.
ADV 610 INTRODUCTION TO ADVERTISING DESIGN AND GRAPHICS (5)
This course provides an introduction of the
advertising design industry, including visual
communication theory and methodology, principles
of design and production processes. Topics include
symbols, visual perception, conceptualization and
layout stages, design principles, typography,
illustration and imaging, color and color
reproduction, print production, printing processes,
computer graphics and video production and
graphics.
ADV 615 ADVERTISING PROFILES & TRENDS (5)
This course surveys the evolution and achievements
of advertising through the investigation of advertising
trends, past and present. Lectures, visual
presentations, discussions and research promote
students' exploration of the leaders, agencies, events
and campaigns that have influenced advertising,
contributed to advertising innovations, and suggested
directions in which advertising may be headed.
ADV 618 CLIENT RELATIONS (5)
As an extension of marketing, advertising must be
understood in context with all aspects of marketing.
This course will introduce students to the four Ps:
product, price, place and promotion, and then
132
transition into a deeper investigation of these
principles. This course will emphasize the rudiments
of advertising and marketing in a way that is sensible
and logical, and will explain how the message, the
target market and subsequent positioning impacts the
overall advertising effort.
ADV 620 INTERNET ADVERTISING (5)
Focusing on production of Web-specific advertising
materials, this course will focus on applied and
theoretical knowledge of interactive advertising
development. Through an exploration of the history
and future of the infrastructure of the Web as medium
for interactivity, as well as real-time interaction with
professionals, students learn how to create effective
advertising solutions and communication specific to
the various online media.
ADV 623 COPYWRITING (5)
This course surveys the written expression and
economy of words and thought associated with
advertising and creative thinking. Emphasis will be
placed on the rudimentary techniques of writing
persuasive advertising , in order to enhance the
student's ability to influence human thinking and
buying behaviors through the power of the written
word.
ADV 625 BRANDING THEORY (5)
In this course students will explore the sophisticated
thinking, planning, and the use design and visual
communication that go into establishing a successful
brand position. Through reading, research, lectures,
and case studies, students will learn the principles of
modern branding, target group, differentiating,
position, communication objectives, brand hierarchy,
extension and marketing communications. . Students
then apply those principles as they develop a brand
strategy, brand position and brand personality for a
specific product or service just as they would in the
professional world of advertising.
ADV 628 ADVERTISING DESIGN FOR ALTERNATIVE MEDIA (5)
This course explores advertising design opportunities
beyond traditional media. Students conduct a
thorough analysis of the application of alternative
media opportunities resulting from changes in
demographic and cultural tendencies, environmental
development and technological advances
ADV 630 INTERNATIONAL ADVERTISING (5)
This course concentrates on creating an awareness
and understanding of advertising in the world's
markets. With the help of case studies, discussions,
readings and assignments, students will review the
various advertising methods and techniques in copy
and layout used in a foreign market. Topics covered
include creative localization, economy structures, and
cultural conditioning that affect communication
across geographic and cultural boundaries.
ADV 635 ADVERTISING SALES (5)
Principles of selling media time and space to
advertisers. An overview of sales opportunities and
challenges in the various advertising media. How to